Connect to

POSSIBILITIES
WITH TOMRA INSIGHT
TOMRA Insight turns your sorters into connected devices through the generation of valuable data and processes it into actionable information.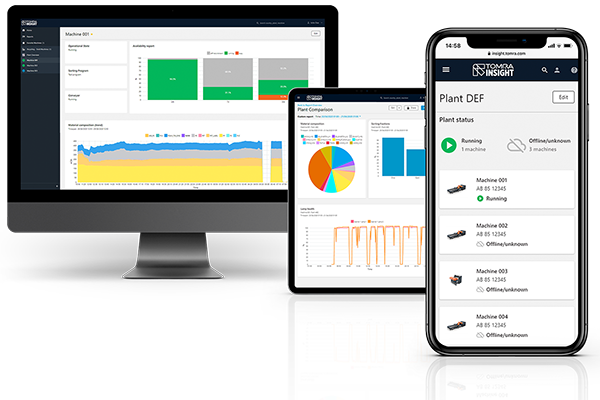 Once connected you will discover
This cloud-based solution offers you one secure, near real-time monitoring platform for all your sorting lines. Wherever and whenever you want, you can access digital metrics on the status and performance of your sorters.

Web-based dashboards
An easy to use web-based sorting dashboard for desktop and mobile devices

Remote access
Remote access to your sorting data, allowing you to collaborate more freely

Customizable reporting
Customizable reporting for a better follow-up of your sorting process

Specialist support
Support from our specialists to leverage your sorting data into tangible improvements, such as reduced downtime, maximized throughput, and optimized output quality
In the following videos you discover
the benefits of TOMRA Insight
CURIOUS TO SEE
WHAT
YOUR DIGITAL
SORTING DASHBOARD
WOULD LOOK LIKE?
WELLMAN INTERNATIONAL
"The sorting data overview in the TOMRA Insight dashboard represents hours of saved time, and money."
With a rugged plug-in device, we connect your sorters to our cloud-based data service. TOMRA Insight visualizes the processed sorting data and makes it accessible on desktop and mobile devices. You will be able to follow up on the status and throughput of your machines remotely. This will:
improve personnel efficiency and enable operators to act quickly
reduce the need to constantly monitor operations manually
guide efforts and interventions towards relevant actions
improve performance thanks to less downtime
Connect to



PRODUCT QUALITY
THE JERSEY ROYAL COMPANY
"Taking our sorting process digital was one step forward. Now, having to miss it would feel like going five steps back."
Your TOMRA Insight dashboard generates customizable logs, status reports, and analytics. Not only on your machine's performance but also on the sorted products. Receiving live and detailed information on what you are processing will allow you to:
monitor product quality faster and more closely
take well-informed optimization initiatives
benchmark across batches, plants, fields, seasons, ...
allocate output quality to meet customer requirements
BLUESTONE MINE
"The TOMRA machines are a critical part of our plants to meet our production targets. Having the TOMRA Insight report each morning is essential."
The connection between your sorting line and our cloud system enables a more proactive collaboration between your staff, your management, and TOMRA's team of service experts and optimizers.
As everyone involved benefits from remote access to documented operating hours, system settings and notifications, service intervals, parts orders, and so on, the data system will allow for:
transparent communication on status and performance
fact-based strategic and operational decision-making
proactive and condition-based maintenance
less frequent and swifter interventions
Connect to


TOMRA INSIGHT



today
Do you want to find out more about TOMRA's offerings, and benefit from our most advanced data and digital service offerings?

Get in touch and request a demo online, or at your premise, and receive a custom-made roadmap for the digitalization of your sorting process.