Are you involved in quality management in the food, recycling, or mining industry? Imagine always being able to rely on facts instead of sampling and guessing to detect anomalies and pinpoint root causes. Quality would be a lot easier to manage with a continuous flow of information on your materials, products, and processes.
Connect to possibilities for improved quality management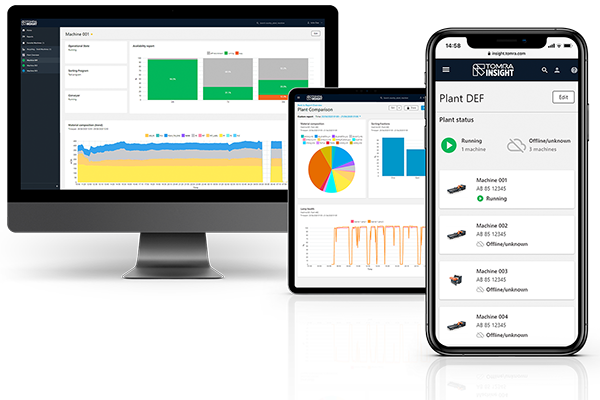 With TOMRA Insight,
you can turn your sorters
into a powerful & connected
source of information.
near real-time metrics

available anytime, anywhere

easily turned into custom reports and notifications
Ready to improve your quality management? Here's how!
Tried and tested by industry-leading companies
"Thanks to the near-live metrics and reports in TOMRA Insight, we can give better feedback to our growers. For instance, we can postpone harvesting when there are too many green potatoes coming through, or we can intervene quickly when a crop health issue arises." Andrzej Kopacz, Operations Manager
"The sorting data in TOMRA Insight help us streamline maintenance and servicing matters, but also allow us to analyze input materials and to improve our sorting efficiency." Jorrit Beetsma, Process Technician

"The TOMRA machines are a critical part of our plants to meet our production targets. Having the TOMRA Insight report each morning is essential." Andrew Gunstone, Metallurgy Superintendent

"The benefits of data-driven quality control"
Through real-life examples, you will learn how:

data from connected devices help to monitor and optimize your output quality
a comprehensive dashboard makes information available on any device, anywhere, at any time
to meet customer quality specifications by making fact-based decisions
Check out our FAQ page.

For personal advice, please get in touch with us by completing the form at the right.
Get in touch for your personal advice or a free demo