How much time do you spend checking machines, operations, and processes? What is the cost of 1 hour of unnecessary downtime? How much can you earn more with 1 extra ton capacity or 1% better quality? Do the math yourself: with multiple wins in terms of time, efficiency, and increased productivity, embracing the data-generating power of your sorters offers a solid return on investment.
Connect to possibilities for efficiency gains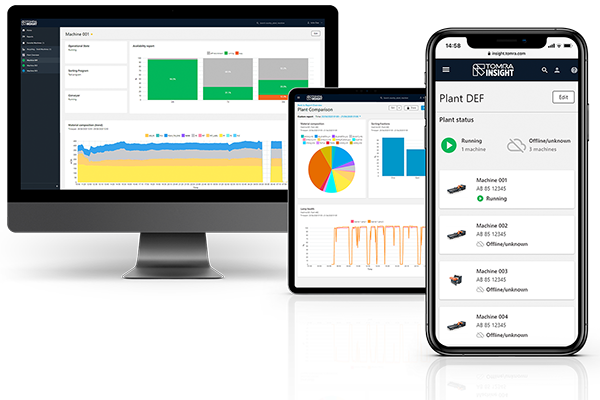 With TOMRA Insight,
you can turn your sorters
into a powerful & connected
source of information.
near real-time metrics

available anytime, anywhere

easily turned into custom reports and notifications
Watch the video: it only takes 1 well-spent minute of your time
Tried and tested by industry-leading companies
"Thanks to the near-live metrics and reports in TOMRA Insight, we can give better feedback to our growers. For instance, we can postpone harvesting when there are too many green potatoes coming through, or we can intervene quickly when a crop health issue arises." Andrzej Kopacz, Operations Manager
"The sorting data in TOMRA Insight help us streamline maintenance and servicing matters, but also allow us to analyze input materials and to improve our sorting efficiency." Jorrit Beetsma, Process Technician

"The TOMRA machines are a critical part of our plants to meet our production targets. Having the TOMRA Insight report each morning is essential." Andrew Gunstone, Metallurgy Superintendent

Check out our FAQ page.

For personal advice, please get in touch with us by completing the form at the right.
Get in touch for your personal advice or a free demo